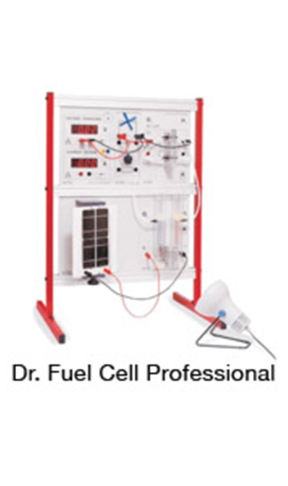 Clean Energy Trainer
Experiment Set for Energy Generation, Storage and Supply
The Clean Energy Trainer experiment set is designed for basic training needs. It includes all the components needed for setting up an autonomous energy system. Users can observe in detail the entire energy conversion chain, as well as the individual technologies of wind, solar and hydrogen power.
Modular design with optimized individual components
PC-supported measurement and experimentation
Solar, wind and hydrogen components can be used separately
Magnetic base for easy setup of experiments
Practical storage box
Instructor Training System
50 W Fuel Cell Training System for Technical Training
The Instructor is ideal for teaching basic engineering principles of fuel cell systems. Realistic, extensive experimenting capabilities and optimized instruction material make it a comprehensive instruction package.
50 W PEM fuel cell, air cooled, open cathode
Modular system with expansion options
Extensive measuring technology
Data recording via PC interface
User-friendly experimenting software
Optimized instruction material
Also suitable for inexperienced users
Nexa® Training System
1.2 kW Fuel Cell Training System for System Design and Hybridization
The Nexa® Training system allows practical preparatory experiments in the design and hybridization of an energy system using fuel cell technology.
Realistic learning system
1.2 kW PEM fuel cell module with battery hybridization
Learning and experimenting software with automatic generation of characteristic curves
Central visualization and control of all system processes via computer
Two battery capacities for experiment setups
Output for DC and AC power
Integrated hydrogen storage
Flexible use of the system, standing and sitting
Extensive learning and experimenting materials
Solar Hydrogen Extension
Mobile Unit for Solar Hydrogen Production
The Solar Hydrogen Extension generates hydrogen from solar power. A software program helps users to learn about energy flux and system efficiency, making it possible to implement interesting projects dealing with autarkic energy supply.
PV systems for AC loads up to 700 W
Electrolyzer and PV system can be used separately
PC software for system control and data acquisition is included
Extensive instruction and experimentation material
Mobile system components with rollers
Remote monitoring via LAN network is possible
Dr FuelCell™ Model Car - Model car with reversible fuel cell
The Model Car integrates the subject of renewable energies in the instruction for the lower secondary level in an uncomplicated manner.
Its pre-configured experiments make learning science curricula fun.
Immediately ready to use; no further materials are needed
Curriculum-oriented instruction manual (Grades 5—10)
Instruction manual and teacher's guide for experiments
Fast and easy preparation for class with materials that can be copied and printed
Robust design and exceptional quality
Variable setup — fuel cell, solar and hybrid operation
Hand generator allows operation anywhere.
Dr FuelCell™ Science Kit
The Dr FuelCell® Science Kit is an extensive experiment set for the subject of renewable energies. Flexible components, 20 pre-configured experiments and detailed supplementary material make it a complete solution for teaching physics and chemistry in grades 9—12.
Curriculum oriented instruction material (Grades 9—12)
20 pre-configured experiments for individual or group work
Immediately ready to use; no additional materials needed
Robust and user-friendly components
Practical and easy-to-operate load measurement box for measuring current and voltage
Expandable, for gaining expert knowledge of fuel cells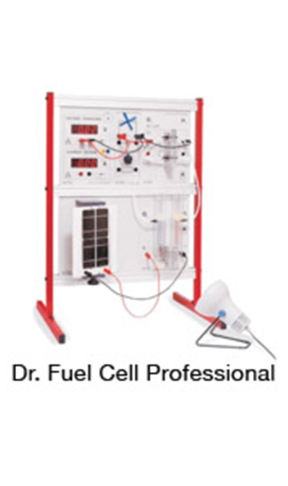 Dr FuelCell™ Professional - Fuel Cell Demonstration and Practice Module
Dr FuelCell® Professional provides support in the form of pre-configured demonstration experiments for presentation to the class. Based on solar hydrogen technology, the single modules reproduce a complete energy cycle.
Custom experiment setups due to modular concept
Complete demonstration unit, no additional components or chemicals needed
Large modules and displays for presentation to groups
Robust components in stable rack
Easy introduction due to pre-configured experiments
Curriculum oriented documentation (Grades 9-12)
Easy and fast installation without extensive preparation