NOT YOUR AVERAGE 3D PRINTER!
Built-in 64bit Windows PC controlling the printer, and allowing in system CAD design.
Industrial design for reliability, ease of maintenance, and repairability
All Metal Nozzle, precision machined from stainless steel and aluminum
Extremely rigid extruded aluminum frame and heavy duty linear bearings
Prints with a wide variety of engineering materials beyond PLA.
Specially processed glass build surface for good bed adhesion and easy part removal.
Arrives calibrated and does not need frequent re-calibration
FM1 Printer
Features
The Fablicator is a brand new 3D printer design, unlike any other FDM printer on the market. It is an extremely accurate, solid, and versatile rapid prototype machine!
The Fablicator has been designed to be a professional desktop 3D printer which meets the needs of designers, engineers and inventors alike. Our printers are shipped fully assembled and calibrated. Also, all the necessary interface software is preloaded, so it can start printing right out of the box.
Since the Fablicator includes a complete Windows PC, install your preferred CAD program and it is possible to design, edit, and print your creations all from one place
- making it a truly a complete turn-key 3D prototype solution for your school, office, laboratory, or factory.
General Hardware:
Print Area: 7 x 7 x 7in (17.78 x 17.78 x 17.78cm)
Print Volume: 343in³, (5.6Liter)
Flow Rate: Up to 1.25in³ (20cm³) per hour
Overall Dimensions: 18 x 20.5 x 17.5in (45.7 x 52.1 x 44.5cm)
Weight: 44lbs (20 Kg)
Power Requirements: 100-240V, 50/60Hz, 3A
Filament Size: 1.75mm
Nozzle Diameter: .35mm
High Quality 3D Printed Parts
Maximum Travel Speed 250mm/s
Maximum Print Speed: 80mm/s
Filament type:s ABS, PLA, HIPS, PVA, Nylon, PETG, and more
Standard Layer Height: 0.1mm-0.3mm
Heated Bed: adjustable for different print materials
Maximum recommended extruder temperature: 300 C
Maximum temperature for heated build platform: 125 C
Support material: Automatically generated break away (same material) support
Linear ball bearings
4 Axis, 1/16th Micro Stepping motors with 3400g*cm of Torque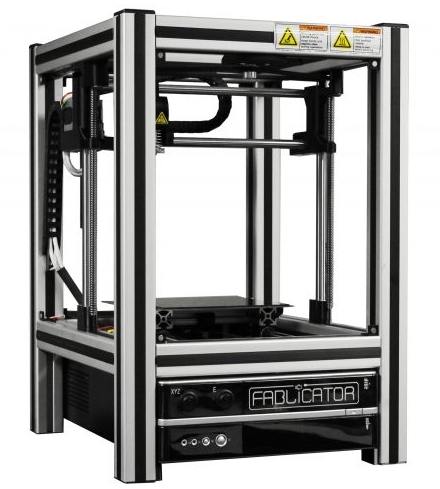 MX Printer
The Fablicator MX is unlike any other 3D Printer on the market.
It is a complete 3D Printing Workstation, capable of designing (when CAD is installed), slicing and printing 3D models without needing a separate computer. It is a complete 3D printing solution for schools, offices, laboratories and factories alike.
The MX ships completely assembled, tested and calibrated. It is ready to make fast, accurate parts right out of the box.
The Fablicator MX features a unique independent dual extruder system, capable of making parts using different materials or support materials, while maintaining exceptional part quality.
Four Print Modes
Multi-Color Mode
Print with two different colors.
Makes prints look stunning and enables a high level of artistic creativity

Support Material Mode
Creates supports using a dissolvable or easy to remove support material Great for complex parts not designed specifically for 3D Printing

Copy Mode
Each head prints a copy of a part simultaneously
Perfect for producing a large quantity of simple parts quickly

Single Extruder Mode
Only use one extruder to print a single material part.
Largest build area and extremely simple settings selection.
General Hardware:
Print Area: 13.5 x 8.5 x 9.5 (343 mm x 216 mm x 241mm)
Print Volume: 1090in³, (17.8Liter)
Overall Dimensions: 31.5 x 18 x 23in (800 mm x 457 mm x 584 mm)
Weight: 78lbs (31 Kg)
Power Requirements: 100-240V, 50/60Hz, 3A
Filament Size: 1.75mm
Nozzle Diameter: .35mm
High Quality 3D Printed Parts
Filament type:s ABS, PLA, HIPS, PVA, Nylon, PETG, and more
Mechanical Precision 0.00035in (10micron) or better
Heated Bed: adjustable for different print materials
Support material: Automatically generated break away (same material) support
12 mm linear rails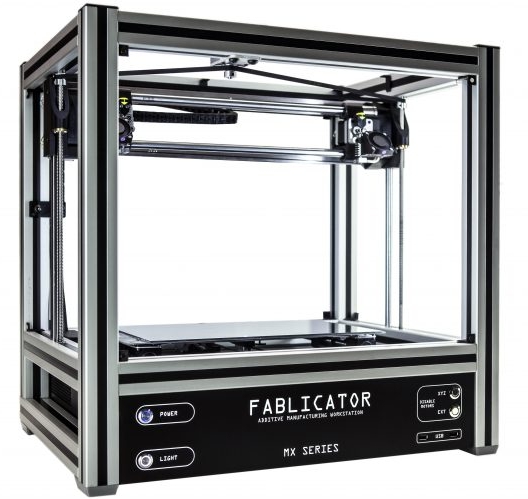 SX Printer
Practical Printable Area
Sized perfectly for the majority of printing needs
General Hardware:
Print Area: 8.5 x 8.5 x 9.5in (216 mm x 216 mm x 241mm)
Print Volume: 686in³, (11.2Liter)
Flow Rate: Up to 1.25in³ (20cm³) per hour
Overall Dimensions: 20 x 18 x 23in (520 mm x 457 mm x 584 mm)
Weight: 60lbs (23 Kg)
Power Requirements: 100-240V, 50/60Hz, 3A
Filament Size: 1.75mm
Nozzle Diameter: .35mm
High Quality 3D Printed Parts
Filament type:s ABS, PLA, HIPS, PVA, Nylon, PETG, and more
Mechanical Precision 0.00035in (10micron) or better
Heated Bed: adjustable for different print materials
Support material: Automatically generated break away (same material) support
12 mm linear rails