Progressive Educational systems
A manufacturer of renewable energy training systems that include awareness level solar, wind, bio diesel, hydrogen, solar thermal and Geothermal as well as certification systems for small wind installation and solar PV installation.
+ Read More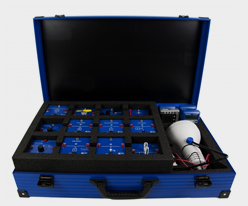 LexSolar
A manufacturer of portable renewable energy training systems in the areas of Solar PV, Wind, H2, BioFuel, Thermal Energy, Smart Grid and Smart Control.
+ Read More
Nida
Nida offers a complete line of training equipment and courseware for transducers, intro to motors, motor controls, PLC and much more.
+ Read More