eARC Welding Trainer
The Welding Trainer is a low-amperage solution (TSMD-01) is based on modern inverter technology. The welding simulator is an effective training solution for new welders in these areas:

- MMA - manual arc welding featuring consumable and non-consumable electrode
- MIG / MAG - semi-automatic welding using shielding gases
- TIG - welding with consumable electrode using gas-shielding


The welding simulator is the fastest and most effective way to develop the student muscle memory skills such as ignition, maintaining the desired arc length, welding speed, tool tilt angles and other welding skills.

The simulator assesses the students performace of each weld, as well as analyzes the quality and performance of the welded joint.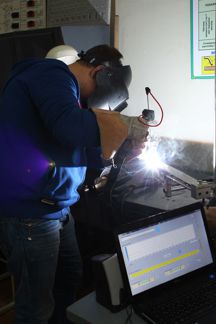 Features
Real low-amperage process: arc, sound, sparks, smoke
Low electro-magnetic radiation
Low power consumption
No metal electrode and flow
Low price
Significantly reduces the time the student to adapt to the process of welding
Shortens the training time.
Greatly reduced consumption of materials.
Low liability issues.
The initial learning curve for students is faster. Students understand the key aspects of welding such as speed control, angles and distance due to the immediate feedback on each weld.
3 different types of welding in the same device. Mig, Tig and Stick.
Ability to train and experience situations not possible in a real life training environment
Attractive to young learners.
Software
Real time evaluation and feedback
North American and European standards
Right or left handed
Simple to update
Highly customizable
Overhead and vertical welding
Software updates are included for life with no extra cost
Add photos to the student report and database
The possibility of additional installation of an interactive learning system that allows you to clearly teach the student the theoretical foundations of the welding process
The ability to use an interactive whiteboard for training of new welders
Display the three-dimensional model of the weld and the layout of the heat input to the simulated weld
Ability to develop new curriculum, or add-on modules to the existing program
Ability to add additional features in the simulator on the instructions of the customer